Discover more from Tyler Has A Gun
equal parts delusion and psychosis
WHEN THE SMOKE CLEARS
Vacation, Milan Bobinac, and Scientology in Phoenix
SUMMER HEAT SUMMER BREEZE
April showers bring May flowers or something like that. Took a week off from writing to enjoy a few days in Sin City and it was much needed. I didn't drink too much but I did gamble and it's with an enduring humility that I tell you I didn't win a single dollar. 
Game 2 for the Suns in the second round, hoping for a big win on the road. 
I WANT A HEART FULL OF LOVE I WANT IT TO FILL ME TO THE BRIM
Milan Bobinac is a Phoenix-born artist exploring the crossroads of their identity and geography. Citing drugs and crime as a source of inspiration, in combination with strained relationships as a loss of cultural identity, these components fuel their creative exploration. Born Into This is the name of Bobinac's newest exhibition, which aims to expound upon the act of scrapping,  something both the artist and I have in common. Born Into This is a collection of work with compiled imagery from Bobinac's family albums and photos taken in their neighborhood, which they employ to "represent both the sights and instability that come with scrapping."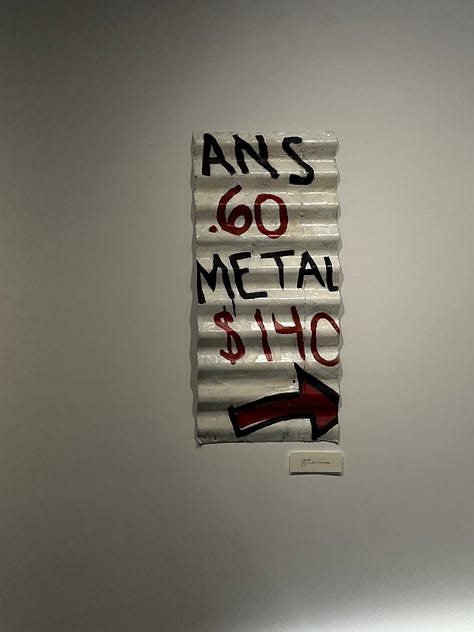 I was able to make it out to the opening night of this moving exhibition and, upon entering the space, was greeted by the entire Bobinac family and Jorge Torres, owner of Palabra. After viewing the installation, I was able to discuss different disciplines and methods with Bobinac at length though, unfortunately for you, I failed to record our conversation. 
I found this collection of work to be both deeply personal and universally relatable, something I consider to be a remarkable artistic feat. It brought back memories of my grandpa making me pour a little sand into aluminum beer cans before crushing them so he would get a little extra cash at the scrapyard that used to be right off Indian School and Grand Avenue, or my dad dragging me to various junkyards on the weekends to look for car parts for whatever project he was working on. 
The full exhibition is still currently on display at Palabra in downtown Phoenix — I highly recommend stopping by to take a look and enjoy a coffee.
THERE ARE MORE OF US THAN THEM
May Day, also known as International Workers' Day, is celebrated annually on May 1st in many countries worldwide. It originated in America as a commemoration of the 1886 Haymarket affair in Chicago, where workers were protesting for an eight-hour workday and a bomb was thrown, resulting in violence and carnage. May Day thus became a day of commemoration to recognize the labor movement writ large and the struggles of workers for their rights and dignity.
In the United States, May Day has had a complex history. The day was recognized as a workers' holiday in the early 20th century, but its association with communism and the Cold War led to a shift away from its celebration in the mainstream and the creation of a completely separate holiday recognized in September, which we call Labor Day. In recent years, however, there has been a renewed interest in May Day among labor unions and activists who advocate for social justice and the rights of both immigrants and workers.
The American labor movement has a rich history of fighting to enshrine the rights of workers, from the early struggles to achieve the eight-hour workday and the abolition of child labor to the fight for fair wages and benefits, workplace safety, and collective bargaining rights. Despite setbacks and challenges, the labor movement continues to play a vital role in advocating for working people and building a more equitable society. 
FORWARD TOWARD A CLEAR MINDED REALITY
Scientology, a controversial religion founded by science-fiction writer L. Ron Hubbard, has a significant but mysterious presence in Phoenix. The Church of Scientology has established a large facility in the city, known as the Phoenix Ideal Org, which serves as a central hub for the religion's activities in the region.
The Phoenix Ideal Org, located on 44th Street and Indian School, was opened in 2012 and is one of the largest Scientology facilities in the United States. The building spans 45,000 square feet and features numerous offices, classrooms, and community spaces for members of the church and is hidden behind walls of ivy – shrouding the elusive church in even more mystique. The church claims that the Phoenix Ideal Org serves as a center for humanitarian outreach, offering programs and services to improve the lives of local residents, but gave the boot to a local business after forcing a purchase of the building they were leasing.
The Church of Scientology has always been the subject of controversy and criticism in Phoenix. Former religious members have accused the organization of abuse, fraud, and harassment, in addition to engaging in aggressive tactics to silence or otherwise discredit its detractors. In Phoenix, the Church of Scientology has faced protests and scrutiny from local activists and media outlets – such is the case almost everywhere the church has active outposts.
Despite the controversy, Scientology maintains a presence in Phoenix, with the Phoenix Ideal Org serving as a headquarters for the group's activities in the region. As the church remains a divisive and polarizing force in the city, you may ask yourself, why Phoenix?
In April of 1952, Hubbard and his third wife moved into a rental house in the shadow of Camelback Mountain to be closer to Hubbard's parents. After spending nearly two decades researching the life force, Hubbard made a breakthrough in the small mid-century home. He believed that he had discovered "the isolation and identification of the human spirit", spurring the "discovery" of the Church of Scientology. Hubbard subsequently established the first Hubbard Association of Scientologists, which was once located downtown, on Central Avenue between 3rd and 7th Street, though I've been unable to find any public records of its existence.
In the years that followed, Hubbard penned his seminal scripture and gave over 600 lectures to very young members of the Church that traveled from all over the world to see and hear him. After scrupulous restoration, the home now stands exactly as it was when he dwelled in it from 1952-1954. It contains original artifacts, photographs, and informative displays, all illustrating the tale of the genesis of the only new major religious faith to emerge in the 20th century.
JADED BUT I CAN STILL FEEL IT
I would like to start a petition to remove the following oldheads from Twitter, permanently.
Danny Diablo 

Bruce LePage

John Joesph

Evan Dondo 
Who else am I missing?
HALF A PERSON